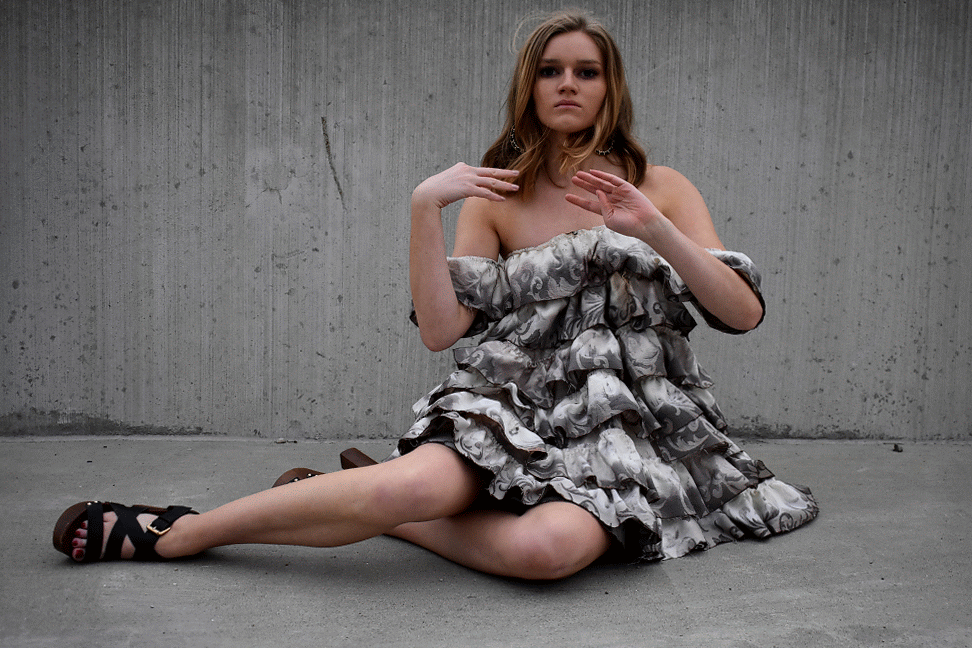 THE PURPOSE OF THIS PROJECT WAS TO MANIPULATE FABRIC IN UNEXPECTED WAYS. I WAS REQUIRED TO CREATE A SMALL SET OF SAMPLES OF DIFFERENT MANIPULATION TECHNIQUES, CHOOSE 2, AND APPLY THE RESEARCH TOWARDS CREATING AN ORIGINAL DESIGN. I CHOSE TO USE A PROCESS OF COFFEE DYEING AND EDGE BURNING.
BELOW IS MY SAMPLE NOTEBOOK OF BURNT OR DYED SWATCHES AND THE MAPPING OUT OF THE PATTERN FOR THE BODY OF THE DRESS AND THE PATTERNS FOR ITS RUFFLES.
DYEING THE ENDS OF THE RUFFLES WITH COFFEE:
I USED THE DIP DYEING TECHNIQUE SO THE COFFEE WOULD "RUN" UP THE RUFFLE TO CREATE A GRADIENT EFFECT MUCH LIKE THE WAY SOMETHING GRADUALLY BURNS.
A DETAILED IMAGE OF THE RUFFLES.
THE DIFFERENT FIBER CONTENTS IN THE APPLIQUE PATTERN CREATED DIFFERING AREAS OF LIGHT AND DARK DUE TO HOW IT ACCEPTED THE COFFEE AS DYE. I TOOK THIS DETAIL AND VARIED THE DIFFERENT SIDES OF THE FABRIC IN ORDER TO UTILIZE BOTH PRINTS IN THE RUFFLES. THIS GAVE A MORE "SMOKEY" LOOK.
I ALSO TOOK A LIGHTER TO THE ENDS OF THE RUFFLES IN ORDER TO FINISH AND SEAL THEM BUT TO ALSO GIVE THEM THE LITERAL BURNT EFFECT.
THE PROGRESS OF SEWING THE RUFFLES ON IN TIERS.